Brainsteering: A Better Approach to Breakthrough Ideas
March 30, 2011
author |

Kevin P. Coyne, Shawn T. Coyne
year published |

2011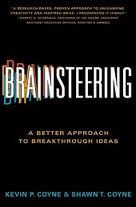 Amazon | Change the way you think about new ideas by steering your creativity in new and more productive directions.
Ideas. Whether the goal is to create a billion-dollar business, fix a broken process, reduce expenses, or simply find the perfect gift for that special someone, we all need a steady stream of breakthrough ideas — and we've all learned from experience that traditional brainstorming doesn't generate them.
Former McKinsey consultants Kevin P. Coyne and Shawn T. Coyne have spent more than a decade developing a better approach — Brainsteering — that takes brainstorming and other outdated ideation techniques and "steers" them in a more productive direction by better reflecting the way human beings actually think and work in creative problem-solving situations. By introducing just the right amount of structure into the process, and asking just the right questions, Brainsteering has helped Fortune 500 companies, small not-for-profits, and individuals alike generate ideas they previously could never have imagined.
Peppered with thought-provoking and entertaining examples drawn from the workplace and popular culture, Brainsteering can help anyone develop breakthrough ideas, whether working alone on a one-time problem or turning an entire organization into an ongoing "idea factory." And getting started is easy: simply ask the right questions, and good ideas will follow.