Free videos for new iPad apps programming course at CMU now available
April 17, 2012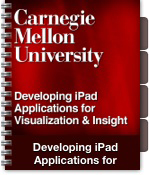 Carnegie Mellon University has announced that anyone can access video lectures on Developing iPad Applications for Visualization & Insight for free as HD videos at Carnegie Mellon University on iTunes U, taught by Niki Kittur, assistant professor in the Human-Computer Interaction Institute.
Students at Carnegie Mellon University this semester have been learning the fundamentals of programming for the iPad in a course taught for the first time by university faculty and a group of top industry developers. Online viewers of the CMU course will see the same lectures as the students, but cannot receive academic credit for the course.
The course uses the latest version of Xcode and the iOS 5.1 SDK. Prior programming experience is required, and object-oriented programming experience is recommended.
The course has proved popular with students from across Carnegie Mellon. About 90 students showed up for the first day of class, though the course had enrolled its limit of 30. Anyone, however, can access the lectures for free as HD videos at Carnegie Mellon University on iTunes U. They are available to download with one click via iTunes U on your desktop or the new iTunes U app on iPad, iPhone and iPod touch.
The course covers the essentials of creating an app, as well as the latest features of the iOS 5, the world's most advanced mobile operating system. But it also will increase students' understanding of the cognitive processes involved in transforming visual representations into mental representations, insight and discovery, according to Kittur.