Global Biotechnology Congress 2017
March 26, 2017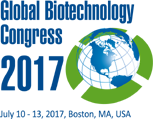 This event will focus on various important disciplines of biotechnology and its applications for improvement in health and quality of life the world over. It is anticipated that up to 1000 of the world's leading scientists, researchers, industrialists and academicians, including several Nobel Laureates, in the fields of biotechnology and medical and biological sciences, will attend this forum, in Boston, to share and discuss new scientific ideas, products and breakthroughs. We are indeed pleased to host such an international conference in the United States of America.
This conference will have a variety of lectures from eminent scientists, including Noble Laureates, who will deliver lectures on plant and environmental technologies, transgenic plants and crops, bioremediation, microbial diversity and bio-monitoring. Focus will be given to medical biotechnology, stem cells, gene therapy, tissue engineering, bio-pharmaceutical manufacturing, cell based therapy, cell cultivation, diagnostics, imaging, pharmacogenomics, microarray technology, biomarkers, pharmaceutical biotechnology, vaccines, CNS, Cancer, antibodies, protein engineering. There will also be important lectures on food, marine, bio-safety systems biology, clinical reserved/clinical trials, bioethics and Nano biotechnology.
We hope that the deliberations and recommendations of this conference will have a significant impact on the future directions of business development, strategic alliances, partnering trends, product opportunities, growth, business models and strategies, licensing merger and acquisitions, outsourcing, venture capital and financing and intellectual property.
—Event Producer