Google I/O 2014 | video: Ray Kurzweil presents "Biologically Inspired Models of Intelligence"
June 20, 2014
Google I/O 2014 | Ray Kurzweil: "Biologically Inspired Models of Intelligence," filmed June 25, 2014
Google | For decades Ray Kurzweil has explored how artificial intelligence can enrich and expand human capabilities. In his latest book How to Create a Mind, he takes this exploration to the next step: reverse-engineering the brain to understand precisely how it works, then applying that knowledge to create intelligent machines.
In the near term, Ray's project at Google is developing artificial intelligence based on biologically inspired models of the neocortex to enhance functions such as search, answering questions, interacting with the user, and language translation.
The goal is to understand natural language to communicate with the user as well as to understand the meaning of web documents and books. In the long term, Ray believes it is only by extending our minds with our intelligent technology that we can overcome humanity's grand challenges.
---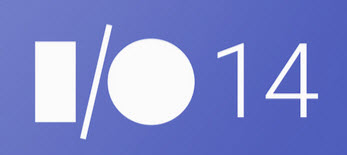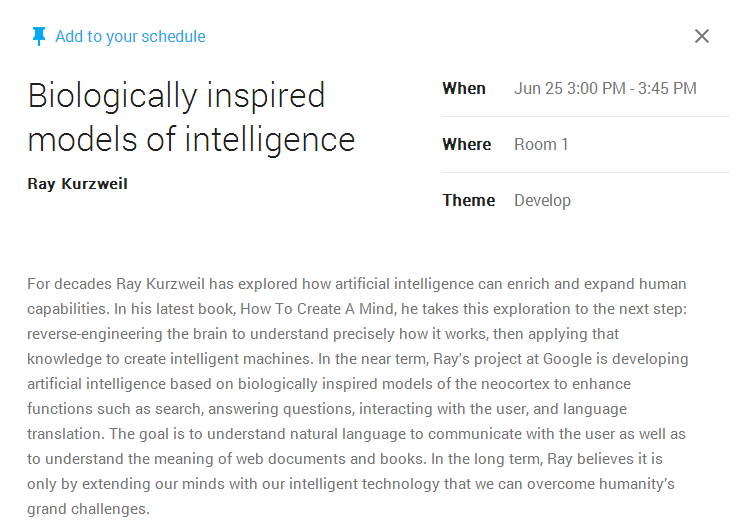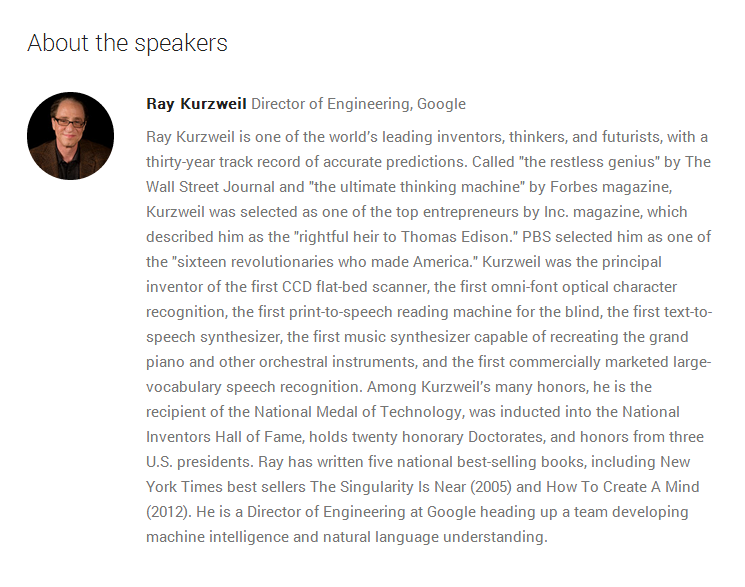 Google I/O | From making your apps as powerful as they can be to putting them in front of hundreds of millions of users, our focus at Google is to help you design, develop and distribute compelling experiences for your users. At Google I/O 2014, happening June 25-26 at Moscone West in San Francisco, we're bringing you sessions and experiences ranging from design principles and techniques to the latest developer tools and implementations to developer-minded products and strategies to help distribute your app.
If you're coming in person, the schedule will give you more time to interact in the Sandbox, where partners will be on hand to demo apps built on the best of Google and open source, and where you can interact with Googlers 1:1 and in small groups. Don't worry, though–we'll have plenty of content online for those following along remotely! Visit the schedule on the Google I/O website (and check back often for updates). As you start your I/O planning, we want to highlight the experiences we're working on to help you build and grow your apps:
Breakout sessions: This year, we'll once again bring you a deep selection of technical content, including sessions such as "What's New in Android"and "Wearable computing with Google" from Android, Chrome and Cloud, and cross-product, cross-platform implementations. There will be a full slate of design sessions that will bring to life Google's design principles and teach best practices, and an update on how our monetization, measurement and payment products are better suited than ever to help developers grow the reach of their applications. Sessions from Ray Kurzweil, Ignite and Women Techmakers will take the stage and make us uncomfortably excited about what is possible. The first sessions are now listed, keep checking back for more.
Workshops and code labs: Roll up your sleeves, dig in to hands-on experiences and code. Learn how to build better products, apply quantitative data to user experiences, and prototype new Glassware through interactive workshops on UX, experience mapping and design principles. To maximize your learning and give you more interaction with Googlers and peers, visit our coding work space, with work stations preloaded with self-paced modules. Dive into Android, Chrome, Cloud and APIs with experts on hand for guidance.
Connect with Googlers in the sandbox: Check out your favorite Google products and meet the Googlers who built them. From there, join a 'Box talk or app review, ranging from conceptual prototyping, to performance testing with the latest tools, to turning your app into a successful business.
Learn from peers at the partner sandbox: We love to see partners build cool things with Google, and have invited a few of them to showcase inspiring integrations of what's possible. You will be able to see demos and talk in-depth with them about how they designed, created and grew their apps.
Beyond Moscone, with I/O Extended: Experience I/O around the world, in an event setting, with I/O Extended. The I/O Extended events include everything from live streaming sessions from I/O to local speaker sessions and hackathons. It is great to see so many events taking place around the world, and we can't wait to see I/O Extended events have another strong year.— Google Developers Blog
---
related viewing from Google I/O 2013 highlights reel:
Google I/O | Relive the moments of Google I/O 2013, including the keynote, sessions, developer sandbox and after hours.
---
related reading:
Google | Google I/O 2014
Google | Google I/O 2014 videos