Our Lady Peace album Spiritual Machines inspired by Kurzweil's vision of the future
January 14, 2011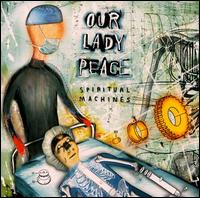 Wikipedia | Spiritual Machines is the fourth studio album by Canadian alternative rock band Our Lady Peace, initially released by Columbia Records in December 2000. The album was a conceptual interpretation of Raymond Kurzweil's 1999 book The Age of Spiritual Machines and featured spoken dialog from Kurzweil himself.
Album history
While touring in mid-2000, Mike Turner came across the book The Age of Spiritual Machines by inventor and futurist Ray Kurzweil. Becoming fascinated by the futuristic ideas in the book, he had the other members of the band read it. They came up with an idea to do a concept album and began writing songs complementing Kurzweil's theories. Turner contacted Ray Kurzweil via email to ask if they could use the title of his book for their next album. Kurzweil's excitement at the prospect prompted them to invite him into the studio to read excepts from his book for the album.
The band then contacted local artist Oli Goldsmith, who lived several blocks from the studio and who happened to be reading the same book, to create the artwork for the album. He also directed the video for "In Repair."  A limited edition version of the CD was released as a completely black case in which the album art was not visible.
Toward the end of the album, there is a hidden track with Ray Kurzweil communicating with "Molly".  Molly is a robot from 2099, who at the beginning of the book was a 23-year-old woman who knew nothing about what Kurzweil was trying to explain, and then started to evolve in the way Kurzweil predicted.
Critical reception
Although Spiritual Machines is Our Lady Peace's least commercially successful album to date, it was highly praised by critics as being one of Our Lady Peace's finest releases, and has also been suggested as being the height of their artistic creativity. The album's lack of commercial success has been attributed to the experimental use of spoken excerpts from Kurzweil's book being included on the album. A review from the Hamilton Spectator noted that the album's concluding tracks "If You Believe" and "The Wonderful Future" demonstrated a particular facility for mixing sonic textures.
Video for "In Repair," featuring Ray Kurzweil

Track listing
All lyrics written by Raine Maida, all music composed by Raine Maida, Mike Turner, Arnold Lanni.
| | | |
| --- | --- | --- |
| # | Title | Length |
| 1. | "Ray Kurzweil Intro" | 0:06 |
| 2. | "Right Behind You (Mafia)" | 3:14 |
| 3. | "Ray Kurzweil 2029" | 0:15 |
| 4. | "In Repair" | 3:58 |
| 5. | "Life" | 4:23 |
| 6. | "Middle of Yesterday" | 3:54 |
| 7. | "Are You Sad?" | 5:08 |
| 8. | "Ray Kurzweil  2029 (Part 2)" | 0:12 |
| 9. | "Made to Heal" | 3:47 |
| 10. | "Ray Kurzweil 1949–97" | 0:44 |
| 11. | "Everyone's a Junkie" | 3:38 |
| 12. | "Ray Kurzweil on Death" | 0:39 |
| 13. | "All My Friends" | 3:37 |
| 14. | "If You Believe" | 3:35 |
| 15. | "The Wonderful Future" | 4:30 |
| 16. | "Ray Kurzweil and Molly" | (hidden) |
Related:
Our Lady Peace official website