International Roadmap for Devices and Systems
May 24, 2017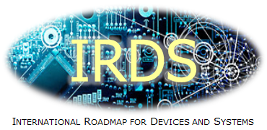 This initiative focuses on an International Roadmap for Devices and Systems (IRDS) through the work of roadmap teams closely aligned with the advancement of the devices and systems industries.
Led by an international roadmap committee (IRC), International Focus Teams (IFTs) will collaborate in the development of a roadmap, and engage with other segments of the IEEE, such as Rebooting Computing, and related industry communities, in complementary activities to help ensure alignment and consensus across a range of stakeholders, such as
Academia
Consortia
Industry
National laboratories
IEEE, the world's largest technical professional organization dedicated to advancing technology for humanity, through the IEEE Standards Association (IEEE-SA) Industry Connections (IC) program, supports the IRDS to ensure alignment and consensus across a range of stakeholders to identify trends and develop the roadmap for all of the related technologies in the computer industry.
The IRDS is sponsored by the IEEE Rebooting Computing (IEEE RC) Initiative in consultation and support from many IEEE Operating Units and Partner organizations including:
CASS – Circuits and Systems Society
CEDA – Council on Electronic Design Automation
CPMT – Components, Packaging and Manufacturing Society
CS – Computer Society
CSC – Council on Superconductivity
EDS – Electron Devices Society
MAG – Magnetics Society
NTC – Nanotechnology Council
RS – Reliability Society
SSCS – Solid State Circuits Society
SRC – Semiconductor Research Corporation
Institute quote from IEEE president.
"A major new initiative, the International Roadmap for Devices and Systems will ensure alignment and consensus across a range of stakeholders to identify trends and develop the road map for all related technologies in the computer industry. With the launch of the IRDS program, IEEE is taking the lead in building a comprehensive, end-to-end view of the computing ecosystem, including devices, components, systems, architecture, and software." – Barry Shoop, 2 December 2016, The Institute
IRDS Mission
Identify the roadmap of electronic industry from devices to systems and from systems to devices
Who We Are
Our roadmap executive committee is comprised of leaders from five regions of the world: Europe, Korea, Japan, Taiwan, and the U.S.A.
The IRDS roadmap IFTs are Application Benchmarking, System and Architecture, More Moore, Beyond CMOS, Heterogeneous Integration (including Systems, Devices, and Packaging), Outside System Connectivity, Factory Integration, Lithography, Metrology, Emerging Research Materials, Environment, Health, and Safety, Yield, Test and Test Equipment, and RF and AMS.
International roadmap efforts directly aligned with the IRDS:
Our Subject Matter Experts include industry leaders from these communities:
Device and Systems Manufacturers
Researchers
Suppliers
Vendors
Computer Manufacturers
Process and Device Modeling Companies
MEMs and NEMs Manufacturers
Semiconductor Process Equipment Manufacturers
Integrated Circuit CAD Vendors
Method
Each of the IFTs will assess present status and future evolution of the ecosystem in their specific field of expertise and produce a 15 year roadmap
This includes: evolution, key challenges, major roadblocks and possible solutions
Integration of all the IFTs roadmaps will produce a "big picture overview"
This IRDS, in cooperation with RCI, will

Identify the technology needs and the key enablers, potential solutions, and areas of innovations in order to resolve challenges and meet the 15-year targets for the industries enabled by the IRDS.
Identify any potential cooperation with organizations interested to demonstrating possible solutions
Deliverables
Exploration of this activity include:
Identifying key trends related to devices, systems, and all related technologies by generating a roadmap with a 15-year horizon
Determining generic devices and systems needs, challenges, potential solutions, and opportunities for innovation.
Encouraging related activities world-wide through collaborative events such as related IEEE conferences and roadmap workshops
Visit our Reports page for 2016 white papers.
Interested in participating on one of the Focus Teams?  Please contact [email protected].
IRDS Contact: [email protected].
Join our IRDS COLLABRATEC Community!
— event producer