Kurzweil Music Systems | Kurzweil PC3K plays starring role in Andrew Lloyd Webber's sequel to Phantom of the Opera
March 1, 2010
Kurzweil Music Systems — December 2009
This is a summary. Read original article in full here.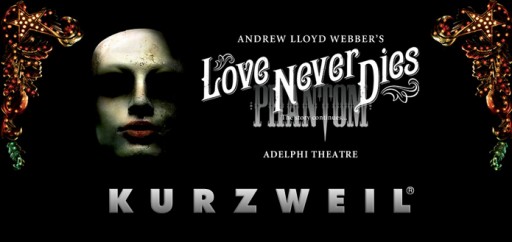 Love Never Dies, a continuation of the epic story of The Phantom of the Opera, will open in London's West End at the Adelphi Theatre in March of 2009, with Kurzweil's new PC3K serving as a cornerstone of the musical production. Long a favorite of Broadway and stage productions worldwide, the Kurzweil K2600 had for years played a crucial role in both the orchestration and performances of Andrew Lloyd Webber's previous productions.
When it came time to begin work on Love Never Dies, Webber's company contacted Kurzweil Music about the possibility of developing an updated replacement for the K2600, an instrument with the powerful voice engine and MIDI implementation of the PC3 combined with the user sample memory of the K Series.
Thus, the PC3K project was born. Just as past major musical productions like Miss Saigon and Wicked have relied heavily upon the K2600's Setup Mode functionality, Love Never Dies called for a level of detailed performance control that could only be found in a Kurzweil. Also, critical to the project would be the ability to load and re-use programs and samples that had been developed for the K series.
Backwards-compatibility and "non-obsolescence by design" have been at the heart of Kurzweil product design for nearly two decades, making the collaboration a perfect fit from the outset. The PC3K's support for .K26 files and its 128 MB of non-volatile user sample memory meant that Webber's team would be able to seamlessly transition from the K series to the PC3K with minimal effort.
"When they approached us, we were absolutely thrilled to have a chance to work with them and spec out an instrument that would fulfill the needs of a modern, large-scale musical stage production," stated Dave Weiser, Pro Product Marketing Manager for Kurzweil Music. "What they were looking for in the way of features was consistent with all the things that had made Kurzweil so popular with high profile artists and productions in the past; the PC3K is just taking it to the next level. All that aside, everyone at Kurzweil R&D agreed that when Mr. Webber calls, you listen."
The score calls for four PC3K's being played alongside a small ensemble of real winds, strings and percussion. The keyboards have made it possible to re-create the massive sound of an 80 piece full orchestra utilizing a pit-sized group of musicians, with the digital instruments working to augment and enhance the acoustic ones.
After the world premiere in London in March, productions are planned for Broadway in November 2010 and for Sydney, Australia in 2011.
For more on Love Never Dies, click here. For more on the Kurzweil PC3K, visit the Kurzweil Music official website.
https://www.youtube.com/watch?v=zztNOL97Uxs