Mashable | Watch Steve Aoki's new music video featuring Ray Kurzweil
May 17, 2013
Mashable — May 17, 2013 | Todd Olmstead
This is a summary. Read original article in full here.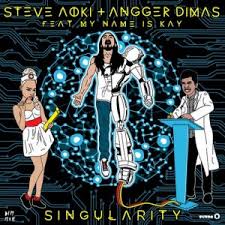 Electronic musician Steve Aoki is a self-professed "Apple geek" and otherwise a big fan of technology.
For his new music video for the track "Singularity," which Mashable is presenting for the first time exclusively, he recruited futurist and technologist Ray Kurzweil to participate. Kurzweil, who became Google's Director of Engineering earlier this year, is famous for his predictions about the future in which human minds will be able to interface directly with machines. His 2005 book, The Singularity Is Near: When Humans Transcend Biology was a New York Times bestseller and was made into a movie, released in 2012.
The video begins with Kurzweil looking into a camera and saying, "Hi, Steve. I want to tell you about our future."
The track, which was released in February 2013, also features frequent Aoki collaborators Angger Dimas and My Name is Kay. Kurzweil does not appear on the audio version of the track.

The video is a creepy bit of sci-fi that blends well with Aoki's electronic music. In it, we see a sinister figure wearing a Bane-like mask capture Aoki and perform an operation on him. He injects him with a mysterious liquid, fusing him with the non-biological elements that Kurzweil alludes to in the video.
"We'll be a hybrid of biological and non-biological intelligence," he says. "But the non-biological part of ourselves will also be part of our consciousness." […]