Open Science Summit 2010: Updating the Social Contract for Science
June 8, 2010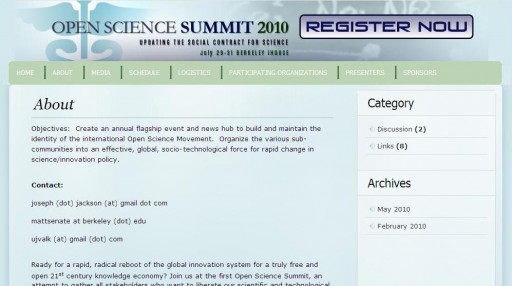 The objective of the Open Science Summit is to create an annual flagship event and news hub to build and maintain the identity of the international Open Science Movement and organize the various sub-communities into an effective, global, socio-technological force for rapid change in science/innovation policy.
Message from Open Science Summit founder Joe Jackson:
Ready for a rapid, radical reboot of the global innovation system for a truly free and open 21st century knowledge economy? Join us at the first Open Science Summit, an attempt to gather all stakeholders who want to liberate our scientific and technological commons and enable a new era of decentralized, distributed innovation to solve humanity's greatest challenges.
Students interested in attending the conference can contact us regarding discounted student rates. We are also looking for volunteers to help out with logistics leading up to and during the conference. If you or someone you know is interested, we'd love to hear from you. Be part of a flagship conference event!     – Joe Jackson