POP!Tech 2010
September 21, 2009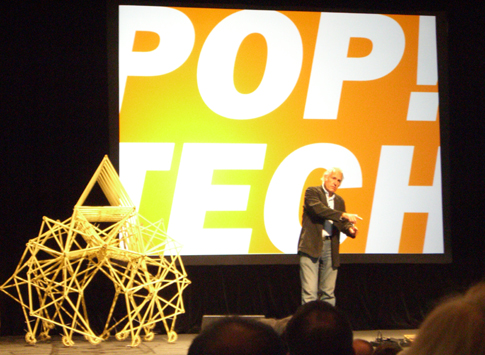 Every October, in the beautiful seaside village of Camden, Maine, at the height of the fall foliage season, there is a one-of-a-kind conference called PopTech.
Held in a beautifully restored, 19th-century opera house, this three-day summit explores major trends shaping our future, the social impact of new technologies, and new approaches to addressing the world's most significant challenges.
A first visit to PopTech is often surprising. Unlike traditional conferences, here you'll find an eclectic network of industry leaders, scientists, technologists, social change agents, artists, educators, the press, bloggers, explorers and one-of-a-kind thought-leaders from a huge variety of fields and number of different places – bound together by an intense curiosity about the forces, challenges and opportunities shaping our future. Many are personally involved in cutting-edge work in these fields – we could easily program a second (and third) conference from the people who attend. This remarkable network is amplified by a similarly eclectic group who participate 'live' on the Internet from around the world.
The vibe (and the dress code) is informal and relaxed, and the PopTech social network is "flat" – here you will find a senior corporate leader speaking intently with a solar energy pioneer; an African blogger deep in conversation with a polar explorer.
The content of a PopTech conference is as diverse as the network itself – presentations range from the nature of disruptive innovation to the economics of human happiness; from the future of deep space exploration to new approaches to environmental stewardship. In the words of one participant, PopTech provides powerful "optics on the future."
The breathtaking content, beautiful setting, intimate scale, and informal tone make PopTech an experience like no other. At the end, you'll leave with dozens of new ideas, a better sense of where the world is headed, a new network of relationships and a lasting inspiration to create a better world.