Team Genius: The New Science of High-Performing Organizations
April 6, 2015
author |

Rich Karlgaard, Mike Malone
year published |

2015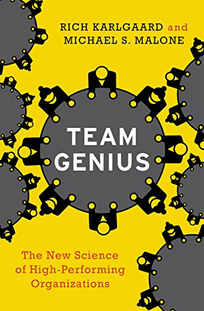 Combing vivid reports of the latest scientific research, compelling case studies, and great storytelling, Team Genius show managers and executives how to look at their teams in a radically new way. It explores vital question that could mean the difference between success and obsolescence. Do you know how to re-organize your sub-par teams into top performers? Could you identify which of the top-performing teams in your company are reaching the end of their lifespan? Would you have the courage to shut them down? Would you know how to create the replacement team to be just as effective—without losing time or damaging morale? And most important, are your teams the right size for the job?
Rich Karlgaard and Michael S. Malone share insights and real-life examples gleaned from their careers as journalists, analysts, investors, and entrepreneurs who travel the world meeting successful teams and team leaders. Throughout, they reveal some "new truths" about teams, including:
The right team size is usually one person less than managers think they need;
Everything you know about performance compensation is probably wrong;
The greatest challenge facing good teams is not how to succeed, but how to die;
Good "chemistry" often makes for the least effective teams;
And more.
Eye-opening, grounded, and essential, Team Genius is the next big idea that will revolutionize business today—and tomorrow.
—HarperBusiness
Kindle and audio editions also available