The state of the future: 2013–14
March 19, 2014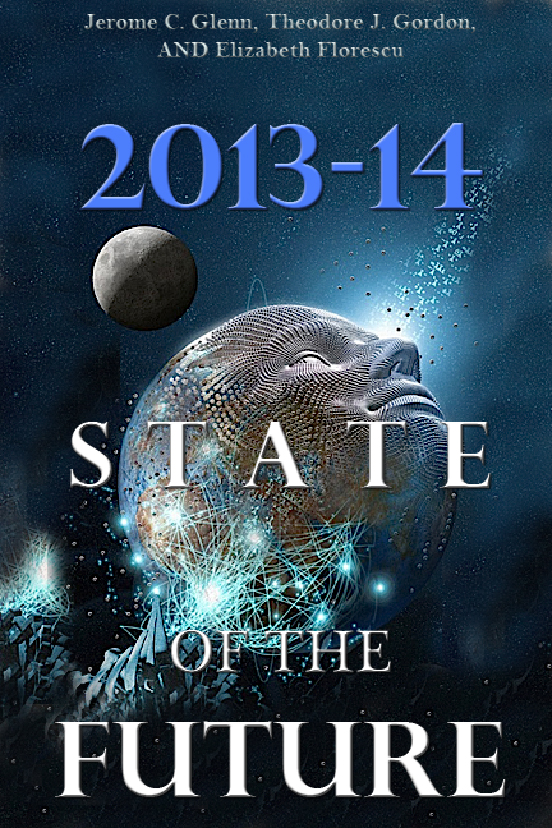 On Thursday March 20, The Millennium Project, a global participatory think tank, will launch the "2013–14 State of the Future" report at the Woodrow Wilson International Center for Scholars from about 12:20 to 1:30 pm EDT, with an open-access webcast.
The "State of the Future" is a comprehensive annual overview of the present global situation and prospects for humanity. It integrates forecasts, trends, and judgments of thought leaders and scholars from around the world, sharing important future possibilities to improve strategies today.
Jerome Glenn, CEO, The Millennium Project; Dennis Bushnell, Chief Scientist, NASA Langley Research Center; and Paul Werbos, Program Director, National Science Foundation, will present the report. Participants at the event will have the opportunity to discuss potential global trajectories and outlooks, and how the first global collaborative futures intelligence evolves and functions.
Good and bad news
The report shows that the world is improving more than most pessimists realize. For example:
People around the world are becoming healthier, wealthier, better educated, more peaceful, increasingly connected, and living longer.
Child mortality rate has dropped 47% since 1990, extreme poverty in the developing world fell from 50% in 1981 to 21% in 2010, primary school completion rates grew from 81% in 1990 to 91% in 2011, only one transborder war occurred in 2013.
Nearly 40% of humanity is connected via the Internet, and life expectancy has increased 10 years over the past 20 years to reach 70.5 years today.
However, the report also warns that water tables are falling on all continents, intrastate conflicts and refugees are increasing, glaciers are melting, income gaps are increasingly obscene, coral reefs are dying, ocean acidity is increasing, ocean dead zones have doubled every decade since the 1960s, half the world's topsoil is destroyed, youth unemployment has reached dangerous proportions, traffic jams and air pollution are strangling cities, $1–1.6 billions annually are paid in bribes, organized crime gets twice the money per year than all the military budgets combined, and half the world is potentially unstable.
Situation overview and prospects
"The 2013-14 edition is the richest array and synthesis of data, information, and intelligent insights that The Millennium Project has ever assembled," says Glenn. Werbos has called it "The most influential annual report on what we know about the future of humanity."
The Executive Summary of the "2013-14 State of the Future" provides an overview of our situation and prospects. It offers suggestions for building a better future, includes an annual World Report Card of where we are winning and losing, and the 2013 State of the Future Index, a graph showing the world's progress.
The report updates and improves insights about 15 Global Challenges that provide a framework for understanding global change, with infographics. It  share international assessments of the causes of and solutions to the increasing problems of hidden hunger, vulnerable natural infrastructure in urban coastal zones, "lone wolf" terrorism, and individuals making and deploying weapons of mass destruction. And and section on the Millennium Project's Global Futures Intelligence System  offers potential strategies to improve humanity's future prospects.
Examples of recommendations include:
US–China 10-year environmental goal to reduce climate change and improve trust
Growing meat without growing animals to reduce water demand and greenhouse gases
Seawater agriculture for biofuels, carbon sink, and growing food without rain
Global collective intelligence systems input for humanity's long-range strategic plans
Tele-nations connecting brains overseas to the development process back home
TransInstitutions for more effective implementation of strategies
A global counter-organized-crime strategy
State of the Future Index as a better alternative to GDP for measuring progress
Impacts of automation
According to the report's executive summary, the world is beginning to automate jobs more broadly and quickly than during the industrial revolution and initial stages of the information age. "How many truck and taxicab drivers will future self-driving cars replace? How many will lose their jobs to robotic manufacturing? Or telephone support people to AI telephone systems?
"The number of employees per business revenue is falling, giving rise to employment-less economic growth. New possibilities have to be invented, such as one-person Internet-based self-employment for finding markets worldwide rather than looking for local jobs. Successfully leapfrogging slower linear development processes in lower-income countries is likely to require implementing futuristic possibilities — from 3D printing to seawater agriculture — and making increasing individual and collective intelligence a national objective of each country.
"The explosive, accelerating growth of knowledge in a rapidly changing and increasingly interdependent world gives us so much to know about so many things that it seems impossible to keep up. At the same time, we are flooded with so much trivial news that serious attention to serious issues gets little interest, and too much time is wasted going through useless information."
The Millennium Project is a global participatory think tank connecting 50 Nodes around the world that identify important long-range challenges and strategies, and initiate and conduct foresight studies, workshops, symposiums, and advanced training. Over 4,500 futurists, scholars, business planners, and policy makers who work for international organizations, governments, corporations, NGOs, and universities have participated in The Millennium Project's research since its inception in 1996.
The Project's mission is to improve thinking about the future and make that thinking available through a variety of media for feedback to accumulate wisdom about the future for better decisions today. It produces the annual "State of the Future" reports, the "Futures Research Methodology" series, the Global Futures Intelligence System (GFIS), and special studies.
The Millennium Project was selected among the top ten think tanks in the world for new ideas and paradigms by the 2013 University of Pennsylvania's GoTo Think Tank Index, and as a 2012 Computerworld Honors Laureate for its contributions to collective intelligence systems.