The Wall Street Journal: Startup of the Year | Ray Kurzweil mentor — new videos
August 20, 2013
The Wall Street Journal | Startup of the Year
WSJ Digital Network | YouTube channel
Introducing WSJ Startup of the Year
Introducing WSJ Startup of the Year, a video series created by The Journal's news department focusing on entrepreneurship. We introduce the business, tech and entertainment titans who will coach 24 startup CEOs who aspire to be named Startup of the Year.
WSJ Startup of the Year, a new documentary series from WSJ Live matches 24 innovative startups with a team of world-class mentors and tracks their journey from startup to success. Over the course of five months, the entrepreneurs will be given weekly tasks and go through a series of eliminations. Watch as they strive to become The Wall Street Journal's first Startup of the Year.
---

WSJ Startup of the Year, The Mentors: The Wall Street Journal has engaged over 40 thought leaders and business influencers to mentor the startups chosen for Startup of the Year. Click here to see the mentors video.
---

WSJ Startup of the Year, The Entrepreneurs: Introducing 24 startups whose founders are building businesses and attempting to disrupt their industries in everything from popsicles to satellites.
---
WSJ Startup of the Year | videos for mentor Ray Kurzweil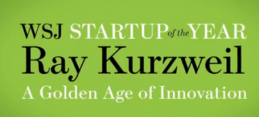 "AI Architect: Why This Is Innovation's Golden Age" | Ray Kurzweil, the noted innovator and entrepreneur now at Google, describes the current landscape in which the barriers to entry for innovative people are lower than ever before.
---
"Ray Kurzweil on Funding for Startups" | Innovator Ray Kurzweil talks money, the availability of venture capital for startups today compared with when he became an entrepreneur in the early 1970s.
---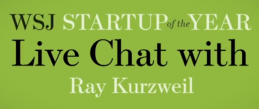 Ray Kurzweil, the noted innovator, inventor and current Director of Engineering at Google, answers questions from WSJ editor Gabriella Stern and Startup of the Year entrepreneurs covering Moore's law, cloud computing, patents, entrepreneurship and many other topics.
Ray Kurzweil Biography
He is involved in fields such as optical character recognition (OCR), text-to-speech synthesis, speech recognition technology and electronic keyboard instruments. In addition, he is the author of several books on health, artificial intelligence (AI), transhumanism, the technological singularity and futurism. Notable success: He received the $500,000 MIT-Lemelson Prize, the world's largest for innovation. In 1999, he received the National Medal of Technology, the nation's highest honor in technology, from President Clinton in a White House ceremony.
---
Welcome to WSJ Startup of the Year!
Over the next 20 weeks our videos will take you inside 24 startups chosen from more than 500 applicants as they build their businesses with coaching and criticism from some of the world's most successful thought leaders and innovators. You'll witness dramatic ups and downs as entrepreneurs face a gauntlet of tough tasks, challenges and milestones. Suspense will build as we whittle down the pool of talented contenders in the coming weeks and months.Entrepreneurs will be assessed on the basis of their firms' scalability, long-term viability, originality and distinctiveness of their products and services, utility, and ability to perform tasks we and our mentors set for them.
The eventual Startup of the Year will be the firm that best meets these expectations.The documentary will comprise a mix of contributed video from entrepreneurs and coaches, and WSJ-produced features. Viewers will have many opportunities to interact with the project by casting votes on entrepreneurs' videos; sharing videos and blogs via social media; and connecting with entrepreneurs and mentors during live chats. Votes won't determine who stays and who goes — those decisions will be made solely by WSJ editors working in conjunction with mentors.WSJ Startup of the Year is itself a startup, and this is Season 1. We'll be learning as we go, just like the entrepreneurs!
The newsroom team behind @WSJStartup and our blog will be very social over the coming weeks and months. We hope you'll use #WSJSOTY to share videos and to interact with us, the entrepreneurs and mentors.
---