update from Ray Kurzweil | Google product feature called Talk to Books
Helps you find questions to your questions in more than 100,000 books .
April 10, 2018
Google announced today, April 13, 2018, a new experimental publicly available technology called Talk to Books, which lets you ask questions in plain-English sentences to discover relevant information from more than 100,000 books, comprising 600 million sentences.
For example, if you ask, "Can AIs have consciousness?," Talk to Books returns a list of books that include information on that specific question.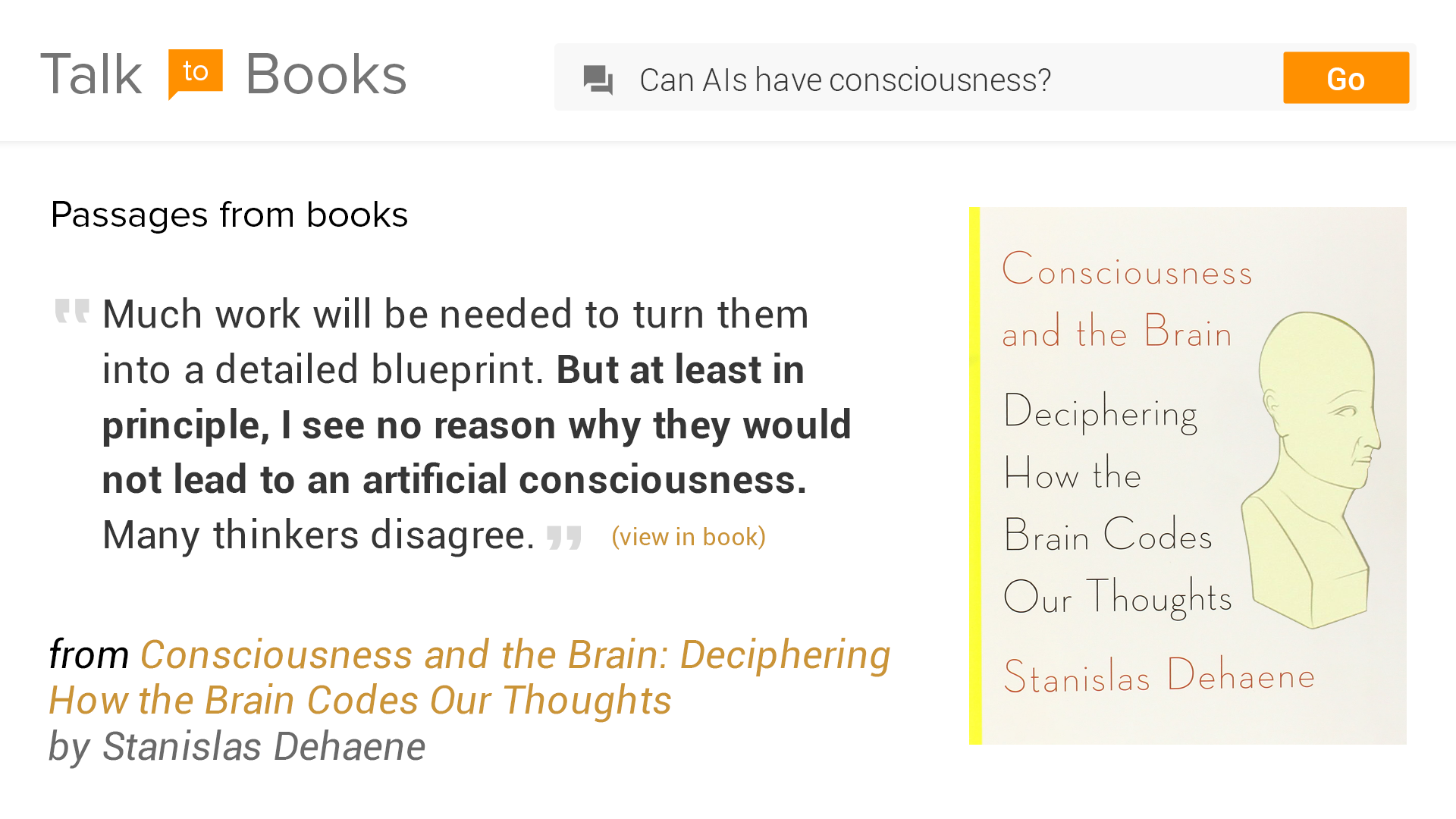 The new feature was developed by a team at Google Research headed by Ray Kurzweil, a Google director of engineering. As Kurzweil and associates note in a Google Research Blog post today, "With Talk to Books, we're combining two powerful ideas: semantic search and a new way to discover books."
Experiments in understanding language
Semantic search is based on searching meaning, rather than on keywords or phrases. Developed with machine learning, it uses "natural language understanding" of words and phrases. Semantic search is explained further on Google's new "Semantic Experiences" page, which includes a link to Semantris, a set of word-association games that lets you explore how Google's AI has learned to predict which words are semantically related.
The new semantic-search feature is based on the research by Kurzweil and his team in developing an enhanced version of Google's "smart reply" feature (which provides suggestions for responding to each of your Google emails), as explained in an arXiv paper by Kurzweil's team.
That research is further described in a March 29, 2018 arXiv paper. Also released is a version of the underlying technology that will enable developers to use these new semantic-search tools — including a universal sentence encoder — in their own applications, similar to Talk to Books.
reference: www.wired.com/story/what-is-ray-kurzweil-up-to-at-google-writing-your-emails