Webit Festival — Re-inventing Europe's Future
March 14, 2017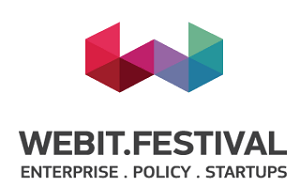 Today we announce the thrid edition of the Smart Cities Summit, part of the biggest ever Webit Festival Europe under the theme re-Inventing Europe's Future | 25-26 April 2017.
The Webit.Festival is a proud host of 12 parallel summits on Innovation, Digital Transformation, Digital Marketing and Advertising, Mobility, Health, Cyber Security, Digital Economy leadership, Smart Cities and Fintech among the other events.
The Smart Cities Summit gathers mayors, municipality administrations and public sector from around Europe and aims to address all of the crucial factors that are facing urban administrators in today's digital world.
The CONFIRMED SPEAKERS of the Smart Cities Summit include:
– Yordanka Fandakova – Mayor, the City of Sofia
– Jonathan Reichental – CIO, City of Palo Alto
– Luisella Giani – Digital Directr EMEA, Oracle
– Julie Alexander – Director, Urban Development, Siemens
– Malcolm Johnson – Deputy Secretary General, ITU
– Richard Harris – Director, International Transportation and Government, Xerox
– Amr Salem – Global Managing Director for Smart Cities, IoE, Cisco Systems
– Markku Markkula – President, European Committee of the Regions (CoR)
– Jonas Jacobi – VP, Cloud and Mobile Technology Strategy, IBM
– Joe Baguley – VP & CTO, EMEA, VMware
– David Cass – Chief Information Security Officer Cloud & SaaS Operational Services, IBM
– Raj Samani – CTO EMEA, Intel Security
– Dr. Vasil S. Denchev – Chief Software Architect of Quantum Artificial Intelligence Lab, Google
– Ilias Lakovidis – DG Connect, EU Commission
– Martina Larkin – Head of Europe and Eurasia, World Economic Forum
– Tanja Kufner – MD, Startupbootcamp Smart Transportation and Energy
– Christopher Schlaeffer – Chief Digital Officer, VimpelCom and one of the creators of The World's First Mobile Phone Based on Android
– Maurizio Rossi – co-Founder & CEO, H-FARM
– Paul Copping – Smart City Advisor, Digital Greenwich, Royal Borough of Greenwich
– Alexander Renz – Managing Partner, New Mobility Consulting
– Kurt Collins – Director of Technology Evangelism and Partnerships, Built.io
– Scott Amyx – CEO at Amyx+ and TechCrunch – Author of "Strive", Futurist, Voted Top IoT Influencer & Expert by Inc. Magazine, Postscapes & IoT Institute, Winner of the Cloud & DevOps World Innovation Award
– Mike Pitts -Head of Urban Living & Built Environment, Innovate UK
along with mayors, deputy mayors, municipality administrators, heads of agencies among the others!
WHO ATTENDS?
– City Mayors and Deputy Mayors
– EU commission and European Committee of the Regions memebrs
– Cities Council Members
– Cities' Agency Heads
– Smart City Solution Providers
– Selected Innovative Startups in smart energy, cleantech, mobility, smart administration solutions, smart city solutions
TOPICS OF THE CONFERENCE AGENDA INCLUDE:
– Smart Services
– Digital Transformation
– City Innovation through startups collaboration
– Smart Energy
– Sustainability
– Smart Mobility and Transport
– Cleantech
– Smart City Startup Pitches
– Smart City hackathon powered by Sofia Municipality and Bulgarian Chamber of Architects
PARTNERS of Smart Cities Summit:
The Mayor of Sofia is Chairing the Summit; Sofia Municipality, Oblak.BG, MasterCard, Cisco, The Bulgarian Chamber of Architects, Basscom, BAIT, major regional and international media
WHY SPONSOR/EXHIBIT/PARTICIPATE?
– Direct access to Mayors, deputy mayors, top level municipality administrators, city councils members
– Access to all interested parties within the city administrations responsible for Smart City Solution implementations
– Thought leadership and market leadership – speaking at Smart Cities Summit Stage
– Media Coverage
– 1:1 meetings between the city administrators and the business
TICKETS:
Book your ticket at www.webit.bg or contact our team for the special exhibition and sponsorship packages for the Smart Cities Summit and Expo at [email protected].
—Event Producer