The Singularity Is Near premieres at Breckenridge Festival of Film
June 1, 2010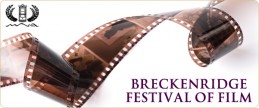 The Singularity Is Near: A True Story About the Future, by filmmakers Anthony Waller, Ray Kurzweil, Ehren Koepf and Toshi Hoo, with Executive Producer Martine Rothblatt (Terasem Motion InfoCulture), makes its world premiere on Saturday, June 12, 2010 at the 30th Annual Breckenridge Film Festival.
The feature-length documentary film presents the daring arguments from Kurzweil's New York Times bestselling book, The Singularity Is Near. He predicts that with the ever-accelerating rate of technological change, humanity is fast approaching an era in which our intelligence will become trillions of times more powerful and increasingly merged with computers. This will be the dawning of a new civilization, enabling us to transcend our biological limitations. In Kurzweil's post-biological world, boundaries blur between human and machine, real and virtual. Human aging and illness are reversed, world hunger and poverty are solved, and we cure death. He maintains a radically optimistic view of the future course of human development while acknowledging profound new dangers.
Kurzweil examines the social and philosophical implications of these profound changes and the potential threats they pose to human civilization in dialogues with big thinkers, including former White House counterterrorism chief Richard A. Clarke; technologists Bill Joy, Mitch Kapor, Marvin Minsky, Eric Drexler, Sherry Turkle and Cynthia Breazeal; Future Shock author Alvin Toffler; civil liberties lawyer Alan Dershowitz; venture capitalist Vinod Khosla and environmentalist Bill McKibben.
Kurzweil illustrates the future with a narrative story about an "AI" seeking her human rights, featuring popular NCIS actress Pauley Perrette and personal development guru Tony Robbins. The Singularity Is Near offers a view of the coming age that is both a dramatic culmination of centuries of technological ingenuity and a genuinely inspiring vision of our ultimate destiny.
The Breckenridge Theater (operating as the Backstage Theater) is located at 121 South Ridge Street, Breckenridge, CO 80424. A discussion with Ray Kurzweil will immediately follow the screening. More information