announcement | Transcendent Man Live with Ray Kurzweil — a special one-night movie event
July 14, 2011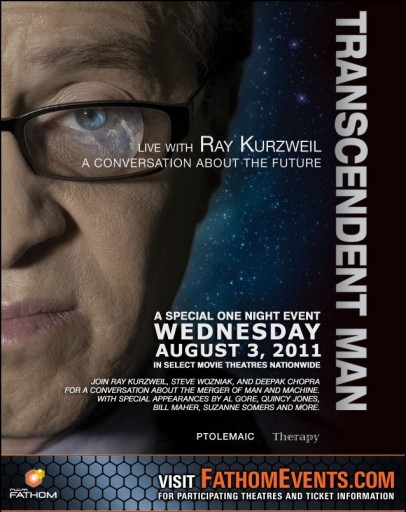 Transcendent Man: A Conversation about the Future with Ray Kurzweil, produced by NCM Fathom, Ptolemaic Productions, and Therapy Studios, will be simulcast to select movie theaters nationwide from Lincoln Center in New York City on August 3rd, at 8:00 p.m. Eastern, 7:00 p.m. Central, 6:00 p.m. Mountain, and 8:00 p.m. Pacific (tape-delayed).
To buy tickets to a screening near you, watch the trailer, or get more information, please visit NCM Fathom here.
Based on the critically acclaimed film documentary Transcendent Man — which explores the life and ideas of Ray Kurzweil — the live event will feature exclusive, extended excerpts from the film and a celebrity discussion panel.
Ray Kurzweil will give a special presentation on accelerating technology and its impact on civilization, followed by an all-star panel discussing the future of humanity, the merger of man and machine, and the imminent end of aging and disease, ushering in an era of extreme longevity and human potential.
The event will feature Deepak Chopra (live via Teleportec), filmmaker Barry Ptolemy, Apple Inc. cofounder Steve Wozniak, physicist Michio Kaku, technology entrepreneur Tan Le, and inventor Dean Kamen. With pre-recorded remarks from former Vice President Al Gore, Suzanne Somers, Quincy Jones, Bill Maher, Elon Musk and others.
Viewers are invited to submit a question in advance (to be answered by participants on event night) on the Transcendent Man Facebook page or Twitter (hashtag: #tmlive).
"Ray Kurzweil's theory that human life will be interconnected with machines and computers within the next several decades is fascinating people worldwide," said Dan Diamond, vice president of Fathom. "This special live event will give audiences a chance to hear directly from the celebrated inventor and a world renowned panel about the theory of immortality and the progress being made in that regard right now."